YOMI ROBOTIC-ASSISTED DENTAL IMPLANT SURGERY
A new technique, called Yomi, is now available to Cornerstone Dental Arts patients. Dr. Griffin has been specially trained to perform this robot-guided dental implant surgery.
Cornerstone Dental Arts offers dental implants to help you maintain your quality of life when you have lost one or more teeth. We'll review your medical and dental history to see if Yomi robot-assisted surgery is a good option for you versus our traditional surgical technique for placing your implants.
ABOUT YOMI
Yomi is a new alternative to traditional surgical techniques. This technology provides Dr. Griffin with robotic guidance while planning and placing your implants. It helps him place the implant with utmost precision for a natural look and feel. It also enables him to quickly make changes to your surgical plan during surgery, making treatment easier for you. Yomi is often less-invasive for our patients, too. (Please note that Yomi is not indicated for patients with no teeth.)
WHAT CAN I EXPECT WITH YOMI?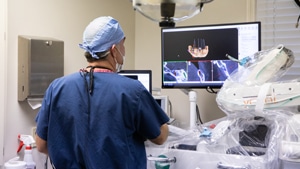 If Yomi is the best solution for you, Dr. Griffin will create a custom treatment plan using Yomi software. During surgery, Yomi will assist Dr. Griffin with visuals and information while he maintains complete control throughout the procedure. Yomi simply provides visual and oral assistance to improve the precision of your placement.
YOMI VERSUS OTHER TECHNIQUES
Yomi is an alternative to free-hand and surgical guide dental implant techniques. Dr. Griffin and the Cornerstone team will discuss all of your options and make their best recommendation for your situation.
Free-hand Dental Implant Surgery
Free-hand is the most common surgical technique for dental implant surgery. With this technique, the surgeon uses a hand-held instrument to place your implant in relation to your bone, gums, and nearby teeth. Precision placement can sometimes be more difficult with free-hand surgery due to human error.
Surgical Guide Dental Implant Surgery
With surgical guides, the surgeon uses guide holes for the implant. This technique does not allow the surgeon to make changes to the plan during surgery, possibly delaying completion. Surgical guides also may not work well due to poor fit, and may not be a good option for hard-to-reach areas. However, they can help make placement more precise and may make surgery less invasive.
What role does Yomi play in my procedure?
Yomi gives our dental team important information on your teeth and jaws. This helps them plan dental surgery treatment that is personalized to you. Yomi then guides your dental surgeon to achieve to that plan. Yomi also allows the dental surgeon to adapt the plan for your patient care needs.
Is robotic assistance new?
Robotic assistance is becoming a standard of care in medicine, used to help over one million patients every year. Yomi is the first and only system for robotic guidance for dental surgery in the United States.
Does Yomi replace my dental surgeon?
Yomi does not replace your dental surgeon. Yomi gives your dental surgeon helpful assistance. The dental surgeon holds onto and directs the Yomi instruments. Yomi combines your dental surgeon's skill with the benefits of robotic surgery.
What can I expect with Yomi surgery?
If Yomi is right for you, your dental team will create a custom treatment plan with Yomi software. During surgery, Yomi will assist your surgeon. Yomi will provide important information that your dentist can feel, hear and see.
Be sure to discuss all treatment options with your dental provider. Your dental team will look at your medical and dental history and recommend a good option for you.