PLACEMENT & RESTORATION OF KNOXVILLE DENTAL IMPLANTS
Do you ever feel the need to hide your smile or alter your food choices because of missing teeth? Are they the first thing you notice whenever you see a picture of yourself? If so, then you know how much of an everyday burden they can be.
For those looking to say goodbye to the gaps in their smile forever, we can offer the most advanced tooth replacement option available today: dental implants. With dental implants, we can rebuild your smile from the root up and provide you with prosthetics that resemble your natural teeth in every possible way. To learn more about how Cornerstone Dental Arts can give you your complete smile back, simply read on below.
YOMI ROBOTIC-ASSISTED DENTAL IMPLANT SURGERY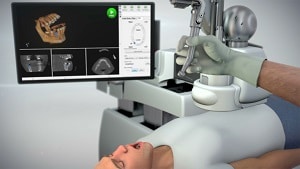 A new technique, called Yomi, is now available to Cornerstone Dental Arts patients. Dr. Griffin has been specially trained to perform this robot-guided dental implant surgery.
Yomi is a new alternative to traditional surgical techniques. This technology provides Dr. Griffin with robotic guidance while planning and placing your implants. It helps him place the implant with utmost precision for a natural look and feel. It also enables him to quickly make changes to your surgical plan during surgery, making treatment easier for you. Yomi is often less-invasive for our patients, too. (Please note that Yomi is not indicated for patients with no teeth.)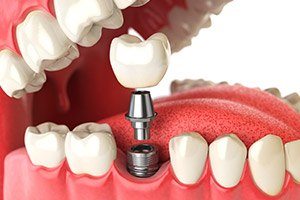 A dental implant is actually a small titanium post that is used to replace the root structure of a lost tooth. This will not only provide your new teeth with unrivaled stability, but it will also support your jaw from within just like your natural teeth. This will help your jaw remain full and strong, which will maintain the shape and appearance of your face for years to come. No other restorative treatment can accomplish this!
To begin getting dental implants, you'll first need to undergo a minor surgical procedure where the post/posts are placed directly into your jawbone. Unlike many other local practices, we are able to handle this part of the procedure right here at Cornerstone, which will help you save time and guarantee a fantastic result.
We'll be able to formulate a precise surgical plan using our CT scanner, which will enable us to complete the procedure quickly and in the least invasive way possible. After it has been completed, you'll be given 4-6 months to heal, during which time the posts will actually bond directly to the surrounding bone, giving your replacement teeth even more security. Once you are healed, you'll return to our office to receive your prosthetic teeth.
DENTAL IMPLANT CROWNS & BRIDGES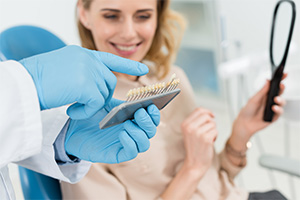 To restore a single missing tooth, we will attach an all-porcelain crown to one implant post. Dental porcelain is one of the most advanced materials we use in all of dentistry, so this crown will resemble your other teeth so much that you probably won't be able to distinguish it from the natural ones after just a few days.
For a row of missing teeth, we can give you something called an implant-retained bridge. For this, we'll apply two implant-retained crowns to either side of the gap in your smile, and these will be attached to prosthetic teeth that fill in the space between them.
DENTAL IMPLANT-RETAINED DENTURES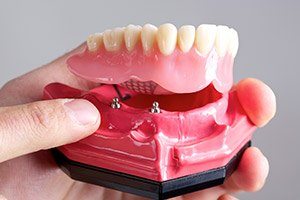 If you're sick of dealing with your uncomfortable dentures that never stay in place, dental implants could be the solution you need. Using just a few strategically placed posts, we can give you a set of dentures that:
Never slip, slide, pop, or click.
Will maintain their fit for much longer while keeping your jaw full and healthy
Provide you with a bite force more similar to your natural teeth
Also, implant-retained dentures are often much smaller and thinner than traditional ones, meaning that they'll fit much more comfortably into your mouth and allow you to taste your food better.
ALL-ON-4® DENTAL IMPLANTS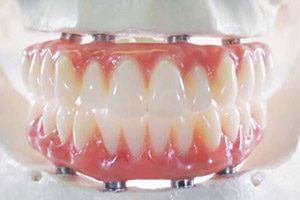 With All-on-4 dental implants, we can restore an entire arch of missing teeth in just one day. It works by using just 4 implant posts to support a full denture, and this treatment is ideal for patients whose jawbone may be too thin or brittle to support traditional implant-retained dentures. Thanks to this treatment, a patient can wake up in the morning with a row of missing teeth and go to bed with a complete smile that night.
You don't have to work around your missing teeth anymore. With dental implants, we can rebuild your smile in a way that will look fantastic and last for decades. If you think they could be exactly what your smile needs, please contact our office for an appointment.