PREVENTIVE DENTISTRY FOR KNOXVILLE FAMILIES
Here in Knoxville, TN, our team understands the importance of prevention – after all, isn't it easier to correct a dental problem while it is still small? That is why our general dentistry services are an important cornerstone of the personalized care we provide. Biannual checkups and regular cleanings from a dental hygienist can benefit smiles of all ages.
Of course, if you need a little more than just preventive care, we can still help. We offer a number of effective general dental therapies that can relieve pain and bring you much-needed relief, and depending on the root cause of the dental issue itself, there are a good number of services that we offer above and beyond the typical 'general' dentistry scope.
DENTAL CHECKUPS & TEETH CLEANINGS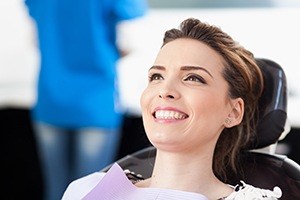 Your smile, just like many other things in life, needs to be maintained in order to look and feel its best over the years. We can help you do exactly that with routine checkups and cleanings.
When you come in for a standard preventive appointment, it will most likely begin with a dental cleaning. For this, one of our excellent hygienists will use specialized tools to break up plaque and tartar that has built up on your teeth and gums. This cleaning is able to reach areas in your mouth that you simply can't at home with your brush and floss, and you'll just love how pristine and smooth your teeth will feel afterward.
Then, one of our dentists will perform a thorough oral exam. They'll check you for tooth decay, cavities, gum disease, TNIJ (jaw-joint) issues, oral cancer, and more. By having these exams regularly, we'll be able to catch any problems you might have early, and therefore treat them quickly and conservatively.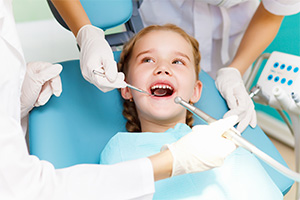 We love helping Knoxville's littlest smiles shine! If it's time for your child to see the dentist, then we'll be able to provide the gentle, specialized care they need in a relaxing, kid-friendly environment. We know that your child's comfort is extremely important during their visit, but don't worry, our team has extensive experience working with children. No matter how your child feels about going to the dentist now, we'll make sure that they're always happy to see us.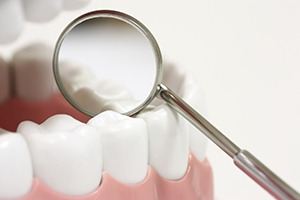 Dental sealant is a thin, plastic coating painted on the chewing surfaces of teeth — usually the back teeth (the premolars and molars) — to prevent tooth decay. The sealant quickly bonds into the depressions and grooves of the teeth, forming a protective shield over the enamel of each tooth.
Although thorough brushing and flossing can remove food particles and plaque from smooth surfaces of teeth, they cannot always get into all the nooks and crannies of the back teeth to remove the food and plaque. Sealants protect these vulnerable areas from tooth decay by "sealing out" plaque and food.
Because of the likelihood of developing decay in the depressions and grooves of the premolars and molars, children and teenagers are candidates for sealants. However, adults without decay or fillings in their molars can also benefit from sealants.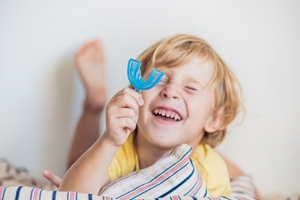 Did you know that 40% of all sports injuries are actually dental injuries? That's a lot of broken teeth! To prevent you or your children from contributing to this statistic, we can provide you with a custom-made mouthguard. Our mouthguards, unlike the ones you can buy in stores, are made to fit each patient individually, which makes them much more comfortable and enables them to provide a lot more protection for the teeth and gums.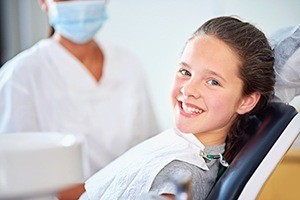 Ever wonder why fluoride is in most toothpastes and added to municipal water sources? Its because it's a natural element that can help prevent and even reverse tooth decay! When fluoride is exposed to the teeth, it actually rebuilds the minerals that have been eaten away by acidic plaque. This is why, at the end of your routine checkup, we will have you rinse your mouth with a highly-concentrated fluoride solution. It's quick, easy, and it will help keep your teeth strong between appointments.
TMJ THERAPY/Headache Prevention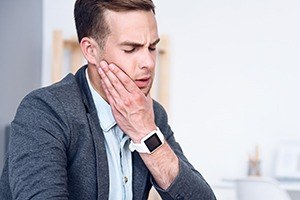 Your TMJ (temporomandibular joint) is the small set of hinges on your jaw that enables it to move smoothly whenever you eat or speak. This joint, like others in your body, can become strained or injured, and this can lead to a variety of problems such as teeth grinding, a sore or stiff jaw, and even chronic headaches! As part of your routine checkup, we will examine the health of your TMJ, and if there is a problem, we can diagnose and treat it right here in our office.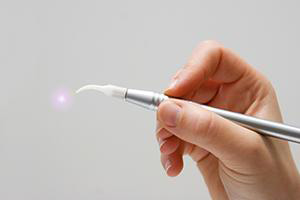 Thanks to the latest advances in dental technology, we can now perform a wide range of treatments using lasers. Dental lasers can be used for cosmetic treatments, gum disease therapy, and even canker sore relief. Thanks to their extreme precision, we're often able to perform these procedures very quickly and save you from feeling any discomfort.
VELscope Oral Cancer Screenings
Nearly 50,000 people will be diagnosed with oral cancer this year, and many will not be able to be successfully treated because the disease was caught too late. To prevent this from ever happening to you or a loved one, we will always include an oral cancer screening as part of our routine checkup.
For this, your doctor will use a special VELscope light, which will enable them to see abnormalities in your mouth that would normally be hidden to the naked eye. If they find anything that causes them concern, they can advise you on the best course of action to take.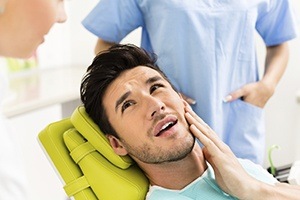 If you or a loved one suddenly suffers an injury to the teeth, don't call 911, call us! We're able to handle a wide array of dental emergencies (knocked-out tooth, broken dental work, severe toothache), and we'll be able to see you much faster than any emergency room/clinic. In fact, we'll even make same-day appointments! When you need urgent dental care, you can always rely on us to be there when you really need it.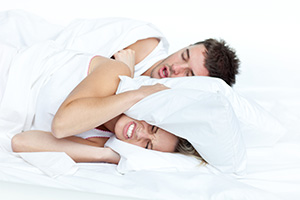 Sleep apnea is a serious sleep disorder that affects about 20 million Americans each night. The symptoms include loud snoring, chronic exhaustion, and frequently waking up out of breath. Thanks to our wide range of expertise, we can provide simple and effective treatment for this condition: oral appliance therapy. By just wearing a small, custom-made mouthguard to bed each night, we can help you finally get the rest you need and feel great in the morning again.