KNOXVILLE ORTHODONTICS: GET THE STRAIGHTER SMILE YOU'VE ALWAYS WANTED
If either you or your child has crooked teeth, it's easy to think of them as just a cosmetic problem. They aren't really causing you any trouble, and your child will probably just grow out of it, right? Unfortunately, this is often not true in either case.
Crooked teeth are much harder to completely clean, making a person much more likely to develop tooth decay and gum disease. Plus, this can cause the teeth to come together incorrectly, making them grind and wear themselves down. For children, crooked baby teeth can lead to severe alignment issues with adult teeth, which can cause both speech and breathing problems.
This is why a straighter smile is usually a healthier smile as well. For those dealing with misaligned teeth, we have a multitude of orthodontic treatments available at Cornerstone Dental Arts that are perfect for patients of all ages, so no matter who we're helping, we can always give them a beautifully straight smile.
Traditional Orthodontics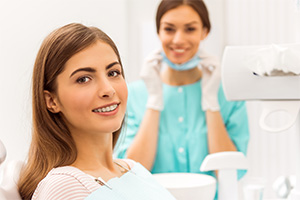 When it comes to fixing a wide variety of orthodontic issues, nothing is more trusted, reliable, and durable than traditional metal braces. This treatment is ideal for younger patients because it is cost-effective and can handle the rough and tumble life of a child. Modern-day braces are much smaller and sleeker than the ones from the past, making them much less obvious and more comfortable at the same time. Plus, for our youngest patients, they can even choose from a selection of brightly colored rubber bands so that they can personalize their treatment.
The Invisalign® Difference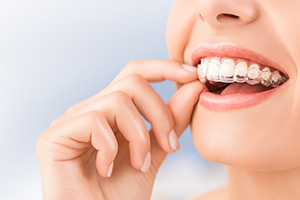 Of course, if you're an adult or have an image-conscious teen at home, braces are probably not the right option. With Invisalign®, we can straighten a person's smile without altering their appearance in the slightest. Invisalign® actually uses a series of clear plastic aligner trays, and patients just love it because of the subtle appearance and the fact that they can take off the trays whenever they want to eat or brush their teeth.
Whether it's for yourself or your child, choosing to straighten crooked teeth is always the right decision, especially when it comes to long term dental health. Thanks to our variety of treatments, we can find the exact treatment that works perfectly for you and your lifestyle. To learn more about our orthodontic options, simply contact our office today.