KNOXVILLE PORCELAIN VENEERS CAN TRANSFORM YOUR SMILE
Whether you have chipped, cracked, stained, or slightly crooked teeth that prevent you from smiling a big, proud smile, our skilled team of cosmetic dentists can help.  We can renew your smile and help you regain your confidence with beautiful porcelain veneers that can transform discolored, misshapen teeth into a flawless smile.
Porcelain veneers are thin coverings that are fixed to the front of the teeth in order to mask blemishes and fractures, and they can even close gaps and fix slight misalignments. They are a quick, natural-looking solution to an imperfect smile. With this one procedure, our doctors can: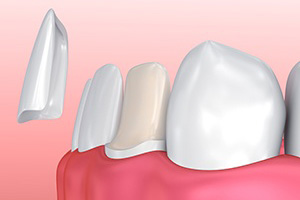 Restore broken, chipped or cracked teeth
Align crooked teeth and refine bites
Reshape teeth that are too long or too short
Brighten teeth with severe staining (for example, tetracycline stains or stains from chemotherapy)
Correct excessive spacing and gaps between teeth
From correcting a single flawed tooth to a complete smile makeover, we can help you achieve the smile you have always wanted, often in just two visits. Porcelain veneers are a popular and effective way to add that "WOW" factor to your overall look. If you think they could be exactly what your smile needs, please contact our office today for a consultation.